On April 18th, CIE delegate went to Xianyang Yucai Middle School and Weicheng Middle School for undergraduate enrollment advertisement. The body first attended the feeder-school-organized meetings at which they introduced NWAFU in terms of its history, development, educational philosophy, leading disciplines and specialized majors. They also sent students booklets, brochures and souvenirs as a courage to them to win the membership of NWAFU.
After the meeting, the two parties attended Excellent Feeder School award ceremony in Xianyang Yucai Middle School which was presided over by the vice-headmaster Mr. Yang Xiongying. CIE Deputy Party Secretary Professor Pei Zhichao and Researcher Mr. Long Qingling addressed the occasion respectively. Headmaster of Yucai Middle School, Mr. Qiu Jian extended his sincere thanks and wishes to further mutual communication between two parties for the improvement of educational quality.
The CIE delegate headed for their next stop---Weicheng Middle School of Xiyang city where they had a nice talk with the school's heads. The two parties came to agreement in establishing NWAFU Excellent Feeder School and made drafted contract. Impressed by the school's highlight ---Middle School Students Career Education Base, CIE delegate spoke highly of its significance in students growth.
CIE delegate were warmly welcome by the schools who attached great importance to the enrollment advertisement. They were shown the campus and informed of the schools' history, development, students academic study, furthering the mutual communication and expanding the cooperation.

Excellent Feeder School Award Ceremony



Meeting with Heads of Yucai Middle School



Meeting with Heads of Weicheng Middle School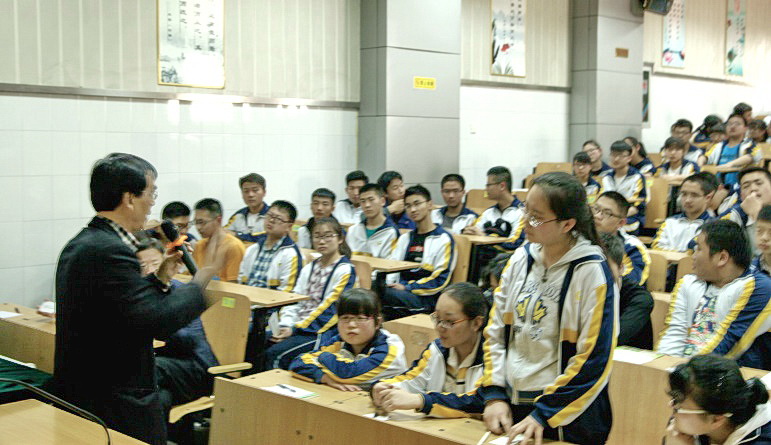 At the report
(Translated by: Yan Xianhui)