On May 21st, the Forth General Biology Quiz Show co-hosted by CIE and College of Life Science wrapped up in the classroom E602. In the preliminary, 10 students stood out of the average candidates while 12 teams won tickets for the final. Through rounds of brain-consuming competition, 6 groups were awarded with honors respectively.
A Trial of Knowledge
At 7:30 p.m. On May 15th, the preliminary of Fourth General Biology Quiz was held in the classroom 8T01-8T04. In the way of pen-to-paper quiz, the preliminary aimed at testing the students' mastery of basic knowledge of General Biology, attracting over 400 applicants who joined the activity in groups or lonely fighter. Last, 10 students won individual awards and 12 groups got promoted for the final contest.
Pan Yating, the student who won the second prize in preliminary shared her feelings, " The questions in preliminary involved in a wide range of basic knowledge of General Biology. To be frank, it's a win-win practice. The effort made for contest promised full perpetration for my term examination, too. Personally, I benefited much from this activity."
Team Work Leading to Victory
"List the metamorphosis types of stem!"
"Name the plant shown in this picture, please!"  
At 7:30, the fourth General Biology and Botany Contest was held in classroom E602. Twelve groups stood out of all candidate groups and will compete for the final championship. Consisting of basic questions, picture questions, association questions, advanced questions and risk questions, the final was characterized with fun and competitiveness, focusing on the test of students' practical abilities and cooperative capacity. A student from Life Science College, Zhang Jingxian said: " I consider the mindset key element in contest. For example, when confronted with risk questions that we never seen before, we didn't fall into panic but cope with the the challenge calmly. That sets the tone for our good outcome."
Her feelings were the same as Jia Qiyuan, a student from CIE Bio-technology class 1603. "Team work and good cooperation are keys to victory. Hence, I would like to extend my sincere thanks to my two teammates. I found great pleasure in this kind of activity. It consolidated our knowledge of majors and enrich out extra curricular life. I think our success should be attributed to our luck and teachers' instruction in general biology class. I really enjoy the contest, because I harvest joy and knowledge, as well as friendship."
Strategic Deployment, Genuine Friendship
A friend in need is a friend in deed. The involvement of contestants' friends highlighted the activity. In the first four sessions, the friends were allowed to give the contestant-friend a hand in dealing with tough questions. In the interaction session, they fanned up the atmosphere when they jumped to give answered to questions raised by hosts.
"We are always with you! Come on!", CIE student Chen Yining said, " As a member of supporting team, I am very happy to give a hand to my friend. Though I didn't participate the contest, I learned a lot from this activity and from their spirit."

How calm the contestants are!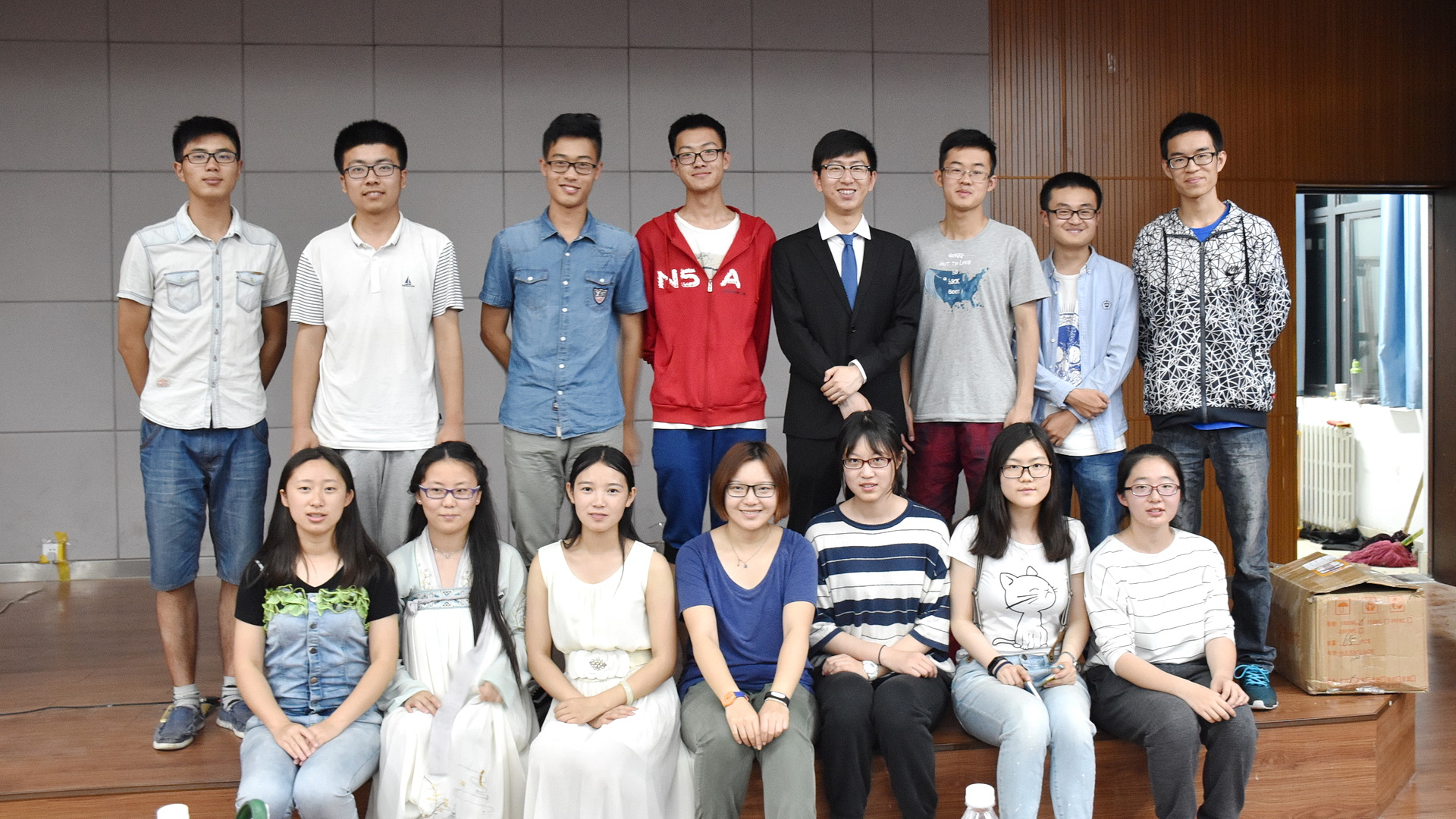 Group photo
(Photos by: Qin Runwen; Translated by: Yan Xianhui)